"Really, producers? Really" Suzy Evans pled in a 2014 piece for American Theatre, mimicking the comedic angst of Amy Poehler and Seth Meyers.
"The Pulitzer Prize [for drama] and all finalist nods go to women in 2014 and 68 percent of the Broadway audience is female, but you don't have a single new play by a woman on Broadway in the 2013–14 season? Really?"
Evans is not alone in her frustration. A group of Los Angeles-based producers and playwrights named the Kilroys are equally vexed by the persistent and systemic underrepresentation of female and trans playwrights in American theater.
Photography by Elisabeth Caren at The Wallis Annenberg Center for the Performing Arts
Comprised of Zakiyyah Alexander, Bekah Brunstetter, Sheila Callaghan, Carla Ching, Annah Feinberg, Sarah Gubbins, Laura Jacqmin, Joy Meads, Kelly Miller, Meg Miroshnik, Daria Polatin, Tanya Saracho and Marisa Wegrzyn, the self-professed "gang" of women are "done talking about gender parity and are taking action." They've opted to funnel their distaste with their industry into an annual project — subtly titled "The List" — that brings together the names of female and trans playwrights who've written plays in the past year.
To do so, the Kilroys survey artistic directors, literary managers, professors, producers, directors and dramaturgs who nominate individual plays they've seen — specifically works written by female or trans authors that have yet to be produced. This year, the group narrowed down a field of 755 suggested plays to 53. The 2015 list is meant primarily as a tool for those contemporary producers who claim they want to showcase underrepresented writers, but believe female playwrights are hard to find.
"We created The List, because time and time again we heard that artistic directors would love to produce female playwrights, but were having trouble locating good plays," Zakiyyah Alexander explained to The Huffington Post. "Ultimately, we know it's possible to program an exciting season of theater that reflects the landscape we live in, which is more than just a landscape of men."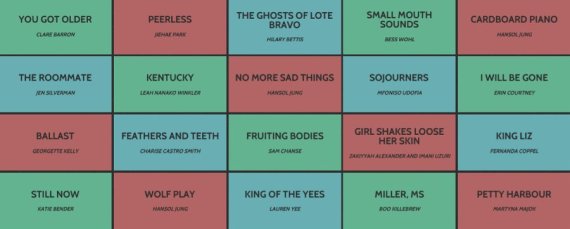 Gender parity statistics in the United States theater scene are less than ideal. "Really, theatres? Really?" Evans goes on to address in her essay, noting that while 51 percent of the American population is female, only around 24 percent of all plays produced across the country in the 2014-2015 season were written by a woman, living or dead. "Really?"
It's not much better in the U.K. "A decade ago, 30 percent of new plays produced in UK theatres were written by women. In 2013 it was 31 percent," Lyn Gardner wrote in the Guardian.

The Kilroys' Alexander believes the biggest obstacle women playwrights face today is getting into the canon: "Many great female writers have been left out over the years, not due to talent, but simply that they were never produced as much as their male peers. This is a disservice, not only to them, but for all of American theater."
"With the creation of, The List, we also call for American theater to up its game, and do the work necessary for gender equality on the stage," she added.
The Kilroys, founded in 2013, named themselves after the subversive graffiti tag "Kilroy Was Here," famously plastered by WWII soldiers in Europe as a way of quietly leaving their mark. The group published its first list last year and have since seen results in both visibility of the women writers they highlighted and increases in script requests. "We've already heard of playwrights on this year's list having a significant amount of queries," Alexander noted. "Exposure is crucial in this career, and we hope The List allows for a push for the listed writers."
She added that seasons often take more than one year to plan, so gathering accurate numbers of the number of Kilroy-certified plays that end up being produced is difficult. "We will continue to mark the number of performances, so that we begin to have a better since of how The List is being used," Alexander said.

For those interested in taking part in the Kilroys' survey, the group makes contact with nominators in two ways. First, they compile a list of all the theater practitioners they know or know of, dividing up the country in search of possible nominators that might be interested in participating. The catch is, each nominator needs to have seen 40 plays that year. The second wave of nominators comes from theater practitioners themselves, as the group hosts an open invitation on their website, allowing interested parties to nominate themselves or someone else.
"Our goal this year was to diversify the nominators in all ways," Alexander said, "and we will continue to work on this in the future."
Kilroy's website contains a detailed list of the 53 most recommended new plays by female and trans authors, including "The Tiger Among Us," by Lauren Yee; "Feathers and Teeth," by Charise Castro Smith; and "Soldier X," by Rehana Lew Mirza. HuffPost's previous coverage can be used to compare the results with this year's Tony Award winners.
– This feed and its contents are the property of The Huffington Post, and use is subject to our terms. It may be used for personal consumption, but may not be distributed on a website.