Detail of an image by Abbi Jacobson.
Abbi Abrams, the yin to Ilana Wexler's yang, is one half of the fictional duo that sits at the center of "Broad City."
Fans know her as an aspiring artist whose day job consists largely of cleaning up "unprecedented" pube situations at a fitness center called Soulstice. She fits some of the stereotypes one might associate with the struggling creative — her first "gallery" piece ends up being nothing more than an interior design element at a new sandwich joint, one of the only corporate clients eager to buy her work turns out to be deliriously racist, and when she attempts to sell her work on the streets of New York City she's greeted by a string of expletives only the coldest of Manhattan hearts can understand.
However, stereotypical Abbi is not. At least, not entirely. For, you see, Abbi Jacobson, the actor/writer/maker of stuff who birthed the character, is also an artist.
We stumbled upon this fact quite serendipitously — Jacobson was once an artist for AOL, The Huffington Post's parent company. Yes, her art can be found on the floors of our NYC building, on some employees' business cards, and on this seemingly ancient (by HTML standards) AOL website. But you need not be staff to know the riches of Jacobson's illustration feats. You can learn a lot about the real Abbi's career as a visual artist in the archives of Internet past.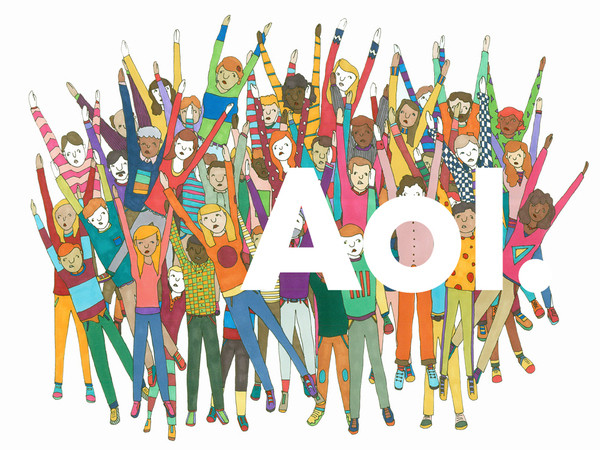 For example, there is this interview with AOL, in which Jacobson gives us the details of her ideal job: "To be able to make a living with my artwork while I pursue other passions and mediums would be envious. To have my comedy fueled by my illustrations and the other way around is a life I strive to live everyday."
Then there's her tumblr, embellished with a title that reads simply, "hello you." Scroll back several months and Jacobson talks the positives of art school. "I learned how to see things at MICA [Maryland Institute College of Art], how to express myself in any medium, how to improvise. I learned how to talk about art and my feelings about art and the world… I couldn't recommend a better place to spend 4 years of your life growing and changing and making things."
Want to know the history of "Famous Favorites," the illustration series that makes more than a few cameo appearances on "Broad City?" There's a tumblr for that too. Because timestamps are creepily exact, we can all pretend we were cognizant of the fact that, on Friday, July 13, 2012, Jacobson posted her first favorite — an illustration of a Fizzy Lizzy bottle, jokingly cited as Alec Baldwin's choice beverage.
But enough cyber stalking. We actually reached out to the comedienne to see if we could ask her a few questions about the ups and downs of trying to make it in the art world. And to our surprise, she said yes! She's a busy lady, so we settled for an email exchange. Below is a short but particularly sweet conversation with Abbi Jacobson:
First off, how many times have we seen your illustration work in "Broad City?" I count three (Abbi's first "gallery" show, the racist dating commercial and the "Famous Favorites" in the Kirk Steele episode.) Am I close?
The hamburger drawing in the "gallery" show in ep. 104 was actually a Famous Favorite to begin with — Sarah Jessica Parker I think. But I took the name out to be just the burger. The racist dating commercial actually isn't one of my drawings. It's very close to a drawing I did for AOL — just that it's a group of people. It's inspired by that drawing, but our art dept. had someone else do that drawing and animation.
There's a few more scattered throughout the show; a famous favorite (Denzel Washington) on my character's fridge, and a lot of my artwork I did in college all over the apartment. There's a map above the sofa and another in the bedroom, along with a lot of other little drawings I gave the art dept. to scatter around the desk.
Is "Famous Favorites" an ongoing series? I imagine "Broad City" is more than a full-time job in season, but are you continuing to make or show art anywhere else?
I did Famous Favorites a few years ago while we were writing the pilot of the show. I wanted to draw more and came up with this idea and just had a lot of fun with it. I started the tumblr and just kept adding to them.
Famous Favorites is now something Abbi Abrams owns I think — so I'm not making anymore, I guess as me! It's fun to create artwork as another version of myself. I've always been very into maps and would love to carve out some time to do some larger paintings, and dive a bit more into the art scene again.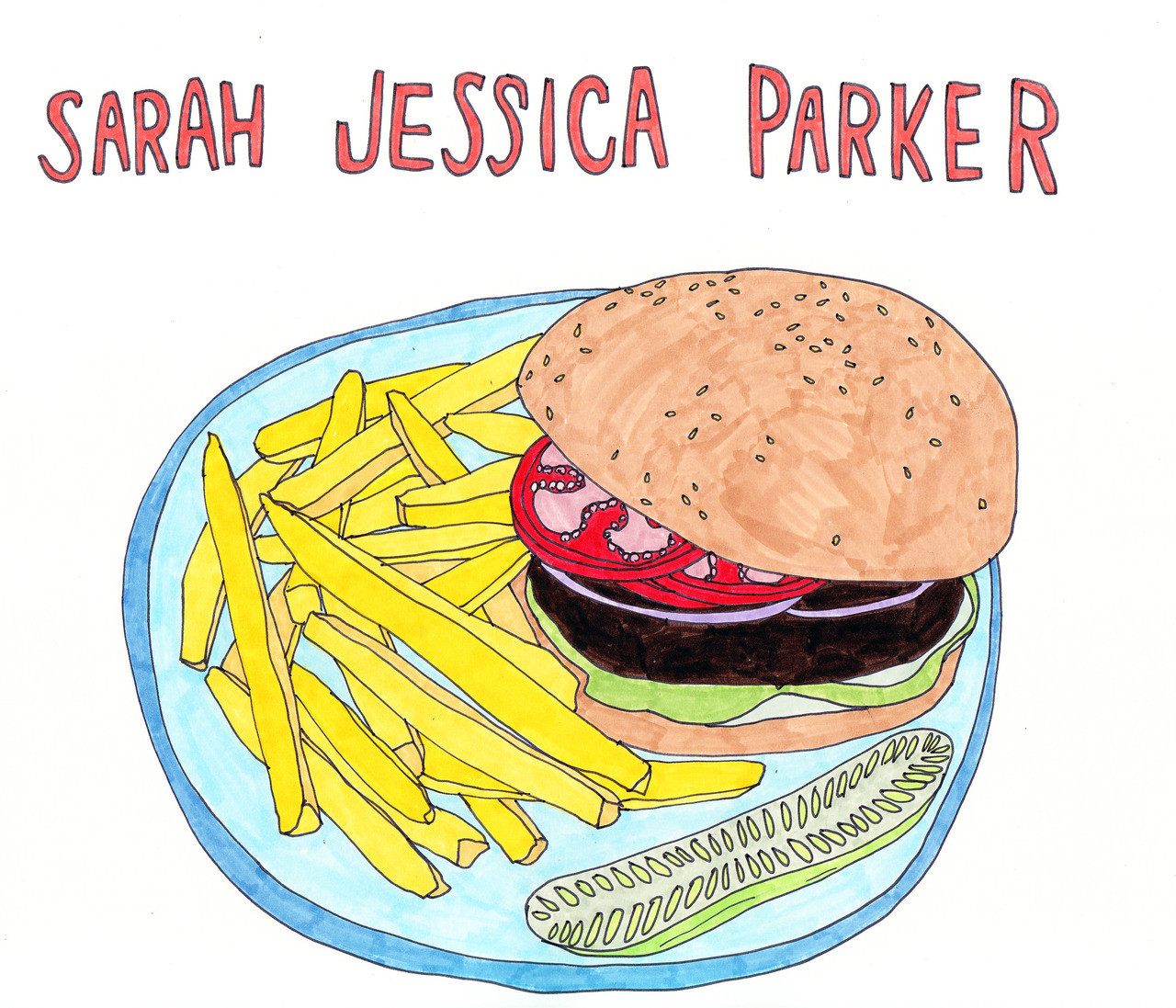 In "Broad City," Abbi Abrams is an aspiring artist who is pretty candid about the difficulties of actually selling art. Is this based on your experience trying to make and sell art?
Yes. All her experiences are directly based on mine in that arena. I didn't go to school for illustration. I did larger pieces, mostly drawings and paintings and minored in video, but when I moved to NYC, I didn't have a studio space anymore and downsized to my desk and started illustrating.
I started a greeting card company and sold cards all over the city. I would pack this huge bag of cards and walk into stores and just sell myself. I sold them on the street in Soho and in Union Square… just like we did in episode 208. I had an Etsy shop. I was really hustling with that, trying to get a big retail store to want them, but it never panned out.
I ended up making the money back, but there are literally thousands still in my mom's basement. That was a tough time, but I'm so happy I tried all that and ran all over the city trying to make that happen. You have to do that for your work, whatever you're doing. Then, hopefully, it will lead to something bigger and better.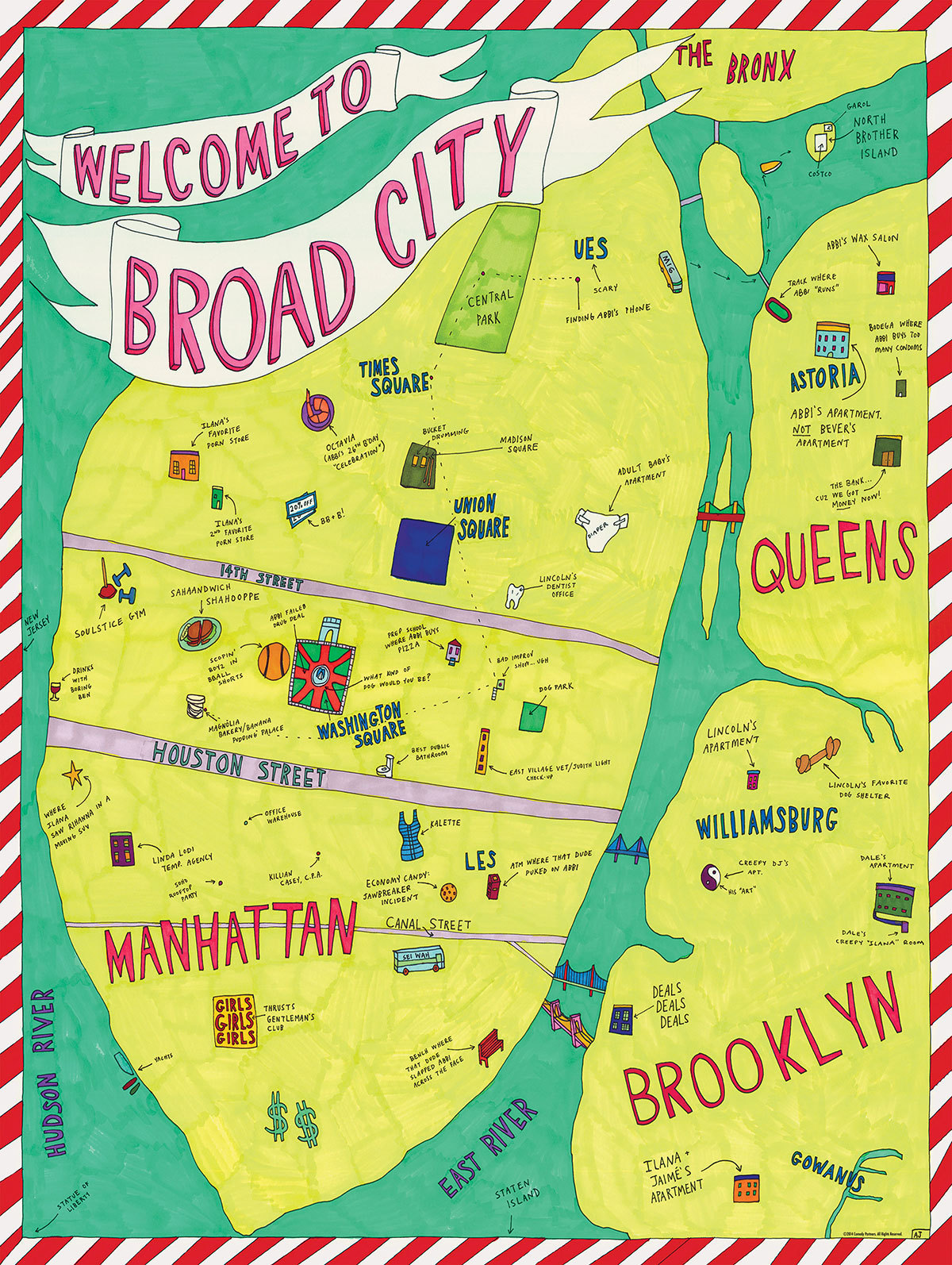 You went to art school in Maryland — what was that experience like? If you could go back and do it again, would you?
MICA was such an interesting period in my life. I hated it and then I loved it. I transferred out for one semester, junior year, to Emerson College in Boston, and when I was there I realized how much I needed to be at MICA.
Art school can be a wonderful place if you're trying to find your voice and your style and your taste. I would without a doubt, go back and do it that way. It is all about producing and making and seeing. Those things can be really vague until it clicks and it clicked for me after school when I was trying to make my own stuff, because I was used to creating my own body of work. So moving into the comedy world I sort of just did the same thing, just now a different medium. I was such an introvert there though. I bet anyone I went to college with might find it bizarre to see what I do now.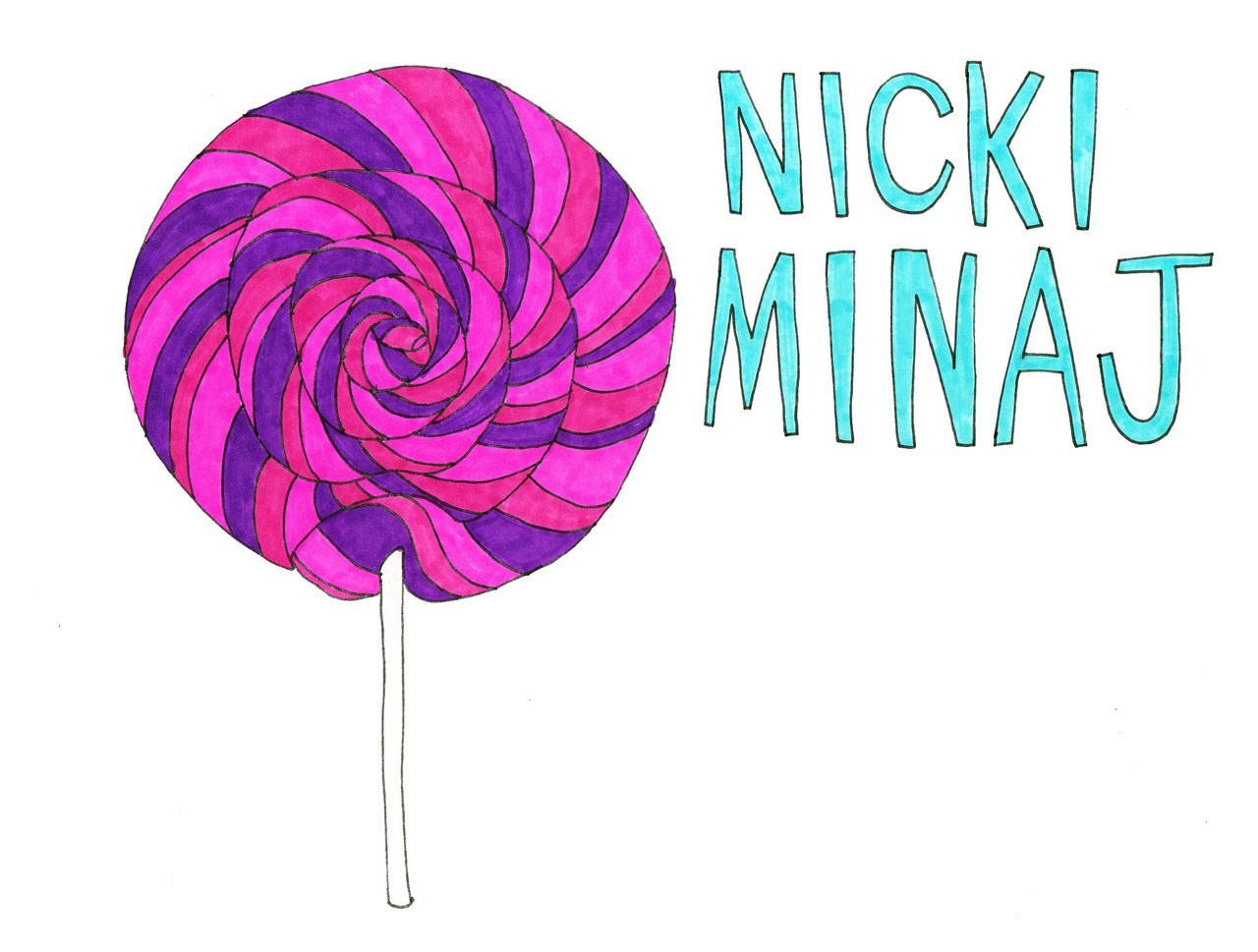 Who are your art heroes?
I love Maira Kalman. She's an amazing illustrator and writer. I've loved her since I was in college, but when I moved to New York and experienced the same city she was drawing and writing about, I developed a whole new appreciation. Her work made me observe everything so much deeper and more joyfully. I was lucky enough to have breakfast with her last year and you'd think I was having breakfast with a Beatle. I geeked out so hard it was so ridiculous.
The guy I'm all about right now is Jonas Wood. I LOVE his work. I went to a show of his in LA and was just in awe. I love [David] Hockney and [Richard] Diebenkorn and people that work with flat color. Also people like Jenny Holzer and Janet Cardiff — their work stops you in your tracks or forces you to experience something. I really admire people that do more than one thing. That's sort of the goal, right — to be an artist that can work in any medium. That's what I hope for my career.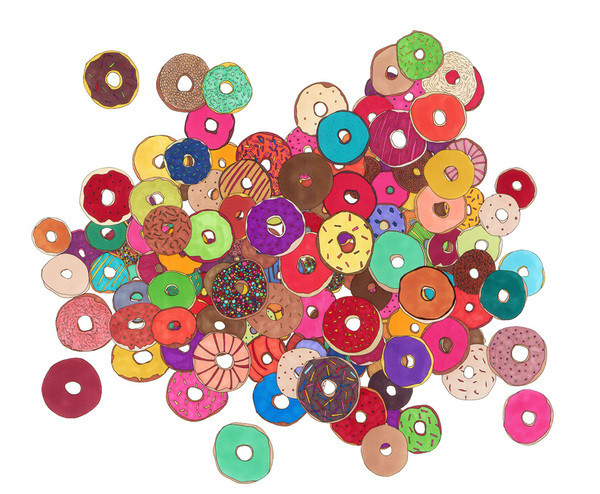 A canvas Jacobson created during her time as an AOL Artist.
Last question: If you could have one hour alone with any artwork what would it be and what would you do with it?
Ohh man, this is really hard. The first thing that came to my mind was the last major museum exhibit I went to — the Matisse cut-outs at MoMA. It was terribly crowded and I felt so stifled, like I was missing out on something so wonderful that was right in front of me. So I would pick that, the whole exhibit. Imagine that!
This interview is part of The Huffington Post's "In Plain Sight" series, a collection of conversations that aims to shine a light on the lives of professional artists. For more on the art of "Broad City," check out our interview with artist Mike Perry here.