It can be difficult to take Clay Aiken seriously. He's best known as the spiky-haired red-head, who lost to Ruben Studdard on "American Idol" in 2004 — yeah, remember him? — and then went on to sing about feeling "Invisible" and be the butt of lazy Kathy Griffin jokes. But he insists running for congress is not some sort of publicity stunt. It's just how he's using the microphone now.
To his fans, it may seem strange that Aiken would give up singing. As he sees it, fame was never part the plan. Growing up, he thought he might like to be a teacher or assistant principal. "I didn't really want to be a principal," he told The Huffington Post Entertainment. "I liked the assistant principal thing." Of course, that was long before being a public figure became what he calls his "new normal."
Aiken only seriously started thinking about a political career in 2010. Frustrated with the gerrymandering in his home state of North Carolina, he started toying with the idea of running for congress. He wasn't truly convinced it was the right move until a friend pushed him to use his name for change.
"Who was the friend?" I asked him.
"Oh, it was Rosie O'Donnell," he responded, totally casual.
Aiken was hesitant to take on a docu-series for Esquire in association with his campaign, until he realized an inevitable benefit of the film-making process based on O'Donnell's advice. The point of running was to use his name to spread his ideas, and whether he wins or loses, his role in "The Runner Up" will be a way to do just that.
"I think I realized over the years that sometimes being in Congress is less effective than not being in Congress," he said.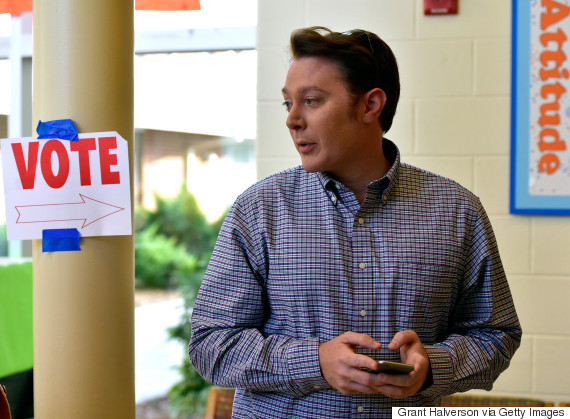 Aiken's biggest causes are education and campaign funding. When asked if gay rights were part of his platform, Aiken replied with a diplomatic, "I've gotta run to represent everybody in the district."
He sees two forms of activism as important: advocacy and normalization. "I appreciate those folks like Michelangelo Signorile and Dan Savage, the people who have been the squeaky wheel to get the grease," he said. "But at the same time, you also have to have people who remind us everyday that I'm just like the person next door. In my opinion, Ellen DeGeneres and Neil Patrick Harris Harris have probably been two of the most impactful people when it comes to promoting gay rights … They allow people to see they're no different than anybody else."
Aiken publicly came out in 2008, when he became a father at age 29. At the time, he felt it was important to set an example for his newborn son, Parker, rather than providing some sort of answer for all the speculation over his sexuality. Now, he leans toward the NPH model of visibility. Although, for the most part, he's given up caring what people think either way.
"Look, I am openly gay," he said. "I don't think there is anyone in the country, except maybe Stevie Wonder, who can't figure that out."
The democratic primary was too close to call in May of 2014, when Aiken heard the news that his opponent, Keith Crisco, had died. "I don't think I've ever been speechless, "Aiken says in "The Runner Up," recounting his reaction to Crisco's death. "The phrase mixed emotions, I think I understood it for the first time, because there was a period where I didn't like him."
Aiken went on to face Renee Ellmers in the general election that November, once again finding himself in second place. Now, Aiken is up against Ellmers again and this time he has been quite vocal about not liking his opponent (calling her an "idiot" and a "bitch" on a recent episode of his docu-series.)
"The person who I am running against could not find Bear Creek, North Carolina, with a map with one road on it," he told HuffPost. "She's never been, she doesn't know where it is, she doesn't know where half her constituents live and that's because they don't have money to give her."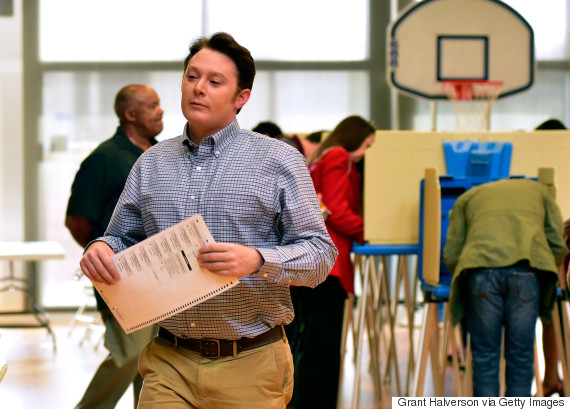 On "The Runner Up," Aiken is similarly candid, just with more cursing — way more cursing than we would expect from the Aiken we saw on "Idol" more than ten years ago. He's honest to the point of being blunt and says "f–k" a lot. In a way "The Runner Up" has served to redefine his public perception, as he sets up a political career by revealing a side of himself most politicians might work to hide.
Perhaps, though he's set on leaving it behind, that's where Aiken's background as an entertainer can set him apart. He's dealt with the blows to his reputation, and built a sense of confidence, bolstered by years of exposure to scrutiny. He's lost, "American Idol," "The Apprentice" and his first attempt at congress, but moved far past giving a "f–k" what anyone has to say about him in any of those races. He carries a "what you see is what you get" mentality that could only have been cultivated by his experiences in the spotlight and, with any luck, will bring him victory in this next election.
"Listen, I didn't necessarily approach my political campaign in a way that was any different than I approached my entertainment career," he said. "Now, I have that microphone. I've used it for singing for years, but I sure as hell can use it for something better than that."
– This feed and its contents are the property of The Huffington Post, and use is subject to our terms. It may be used for personal consumption, but may not be distributed on a website.