As part of the promotional push for her new book, "Yes Please," Amy Poehler sat down with Seth Meyers at New York's 92Y on Wednesday to discuss her career, their friendship and "Saturday Night Live." Poehler and Meyers were both hired before the start of the 2001-02 season, and shared the Weekend Update desk from 2006-08. Ahead, four of the best "SNL" anecdotes they shared with the 92Y audience (but not that one about Jon Hamm making Amy Poehler laugh while she was pregnant, because she might have told that one a billion times in the last month).
1. Amy's Sarah Palin rap was one of Seth's favorite "SNL" moments
"I was on the show for 12 and a half years, and there were maybe 10 times where you thought you fucking nailed it. That you wished no part of it had gone different," Meyers said. "It's like when baseball players hit the ball and flip the bat because they know it's going out of the park." That's how Meyers felt about Poehler's Sarah Palin rap during Weekend Update, which she performed while being nine months pregnant and in front of Palin herself.
"I was an animal. It's really fun to be that pregnant because you freak everybody out," Poehler said.
2. Amy thought Ashlee Simpson's lip-sync flub wasn't a big deal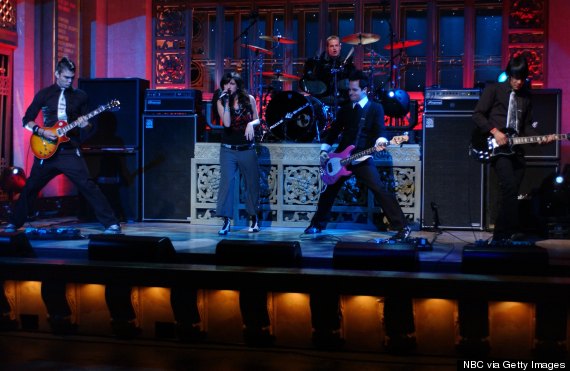 It's a story Poehler recounts in "Yes Please": This is what the reaction was like backstage when Ashlee Simpson was caught lip-syncing during her "SNL" performance.
"We were about to do a Merv the Perv sketch. I was dressed as 'Kill Bill.' Rachel Dratch was Raggedy Ann. And Maya Rudolph was in a pregnant cat suit," Poehler said. "They ran by, and it was one of those things where it was so hectic that we hid under the table." Poehler recalled how Lesley Stahl happened to be backstage as well, as "60 Minutes" was following Lorne Michaels around for a segment on the "SNL" executive producer. Her recollection from under the table: "A thin lady with heels ran by."
For Meyers, things were a little different. "I was getting hair and makeup, so I didn't see it. It was like being in the town next over when Godzilla attacks. People ran by [screaming]," he said.
Despite the chaos, Poehler felt the incident would blow over.
"I remember drunkenly at the party being like it's not a big deal, nobody's going to care," she said before mimicking her drunk voice. "'Who cares? Nobody is going to talk about it tomorrow.'"
3. Johnny Knoxville apparently brought loose pills to "SNL"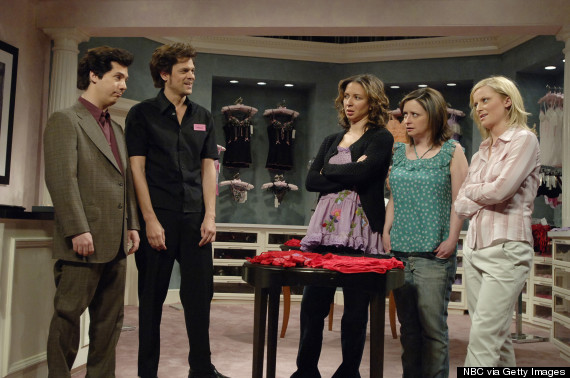 When Johnny Knoxville hosted "SNL," Rachel Dratch threw her back out after sneezing during the read-through couldn't move. Fortunately, Knoxville was there to offer some assistance. "He reached into his pockets and pulled out 12 loose pills," Poehler said. "None of them were downers. All of them only wanted to make you want to party."
As it turned out, Dratch didn't need Knoxville's pharmaceuticals. She received help from the NBC doctor. "She brought the Vicodin, and Rachel didn't want to take one," Poehler said. "Everyone else was like, 'You should take one.'"
4. Amy & Seth's first show was after 9/11, and it started with a "beautiful joke"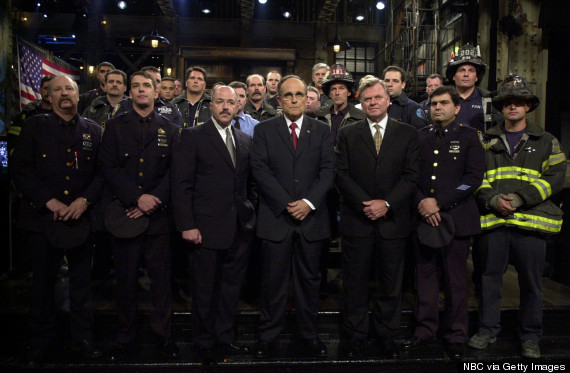 Poehler and Meyers both started on the show in 2001, and their first read-through was supposed to happen on Sept. 11.
"It was a very strange time to be starting a new job at a weekly comedy variety show," Poehler said. "There was a lot of talk about comedy being over. There was a lot of, 'Will we ever laugh again?' That happened, of course, when JFK died. There were all these proclamations about when will we ever be able to get back. That felt truly … it really felt like we were never going to get back anywhere close to where we were. The wound felt so psychic. I was living in New York for six or seven years, so it was my hometown at that point."
Poehler recalled how the aftermath of the terrorist attacks mixed with the jitters associated with starting a new job created an odd juxtaposition. "It was just that combination of, 'Where are the bathrooms? And are we gonna die?'" she said. "Also there was anthrax in our building, which was great too."
The season premiere aired on Sept. 29, 2001 with Reese Witherspoon as host. Paul Simon sang "The Boxer" at the beginning of the show as a group of first responders and Mayor Rudolph Giuliani appeared on stage. After Simon's song, Lorne Michaels came out.
"It was a beautiful New York moment and there was that great joke where Lorne says to Mayor Giuliani, 'Can we be funny?' And Mayor Giuliani says, 'Why start now?' It's so hard to write a joke like that. What fucking joke do you open with?" Poehler said. "It's so self-effacing and funny. The mayor gets the laugh. It's just a beautiful joke. We wanted the mayor to be in charge."
After the show, Poehler and the cast went to the after-party with some of the first responders. "Those guys were a blast," Poehler said. "They were just full of life, having seen so much sadness. Life and death, sadness and happiness live right next to each other. If you're lucky you get to serve them both. That was an amazing time to be on that show for sure."