Is it just us, or is "Game of Thrones" getting better each week this season? The Season 5 premiere started off slow, but the pieces are finally culminating into some of the most exhilarating and shocking twists and turns yet.
This week's episode had a seduction scene, introduced us to the Sand Snakes and, wait, did two characters just get killed off?! George R.R. Martin warned fans that characters who are still alive in the books would die this season on the show, and it looks like those deaths are about to bring the shock-factor. Here's what went down, and excuse us for jumping to the end of the episode first, but we just can't wait!
Spoiler alert for Season 5, Episode 4 "The Sons of the Harpy"
Are Ser Barristan and Grey Worm dead?
Barristan Selmy and Grey Worm spent the final minutes of the episode clashing swords with the masked Sons of the Harpy. But did the show just kill off these two characters who are still alive in George R.R. Martin's books? Selmy falls to the ground severely wounded after he's saved by a less-wounded Grey Worm. If both of them are gone for good, that would leave Daenerys with a major loss in terms of protection and counsel. It was also surprising to see the rebels defeat Ser Barristan, who is known as one of the best sword fighters in the Seven Kingdoms. Let's pray to the old gods and the new that both men show up again next week.
Melisandre hits on Jon Snow
Kit Harington hinted at a Melisandre romance and now we know what he was talking about. The Red Woman comes on to Jon Snow , straddling him and unbuttoning her dress — she certainly has a thing for bastard boys, remember Gendry? But Jon refuses her. Why? Because he's a big emotional puppy who misses his dead girlfriend. Oh, and because he knows nada. (But still, it's a smart choice.)
Cersei gets Loras locked up
After Cersei gives the Faith of the Seven an army and makes the High Sparrow the chosen representative of the Seven, all hell (no religious puns intended) breaks loose in King's Landing. Cersei has Loras Tyrell locked up for sleeping with men while Olyvar, who is Loras' and previously Oberyn's lover, flees the brothel after the religious fanatics capture another gay man.
Tommen proves he is nothing but a boy
He may be the Protector of the Realm, but Tommen can't get anyone to listen to him. The king fails to even get close to the High Sparrow to request Loras' release. Margaery is not pleased.
Jaime kicks Dornish butt with one hand
Jaime and Bronn finally arrive in Dorne, but are met by a group of Dornishmen on horses. Yet the one-handed Kingslayer continues to slay. Also, barbecued snake on a stick doesn't look half bad.
Meet the Sand Snakes!
Finally, after months of hype around these new characters, we got to meet the Sand Snakes. There's Obara, Nym and Tyene, or three of the most badass girls in the Seven Kingdoms. They're ready to side with Ellaria to get revenge after their father Oberyn's death, which definitely means danger once they run into Jaime.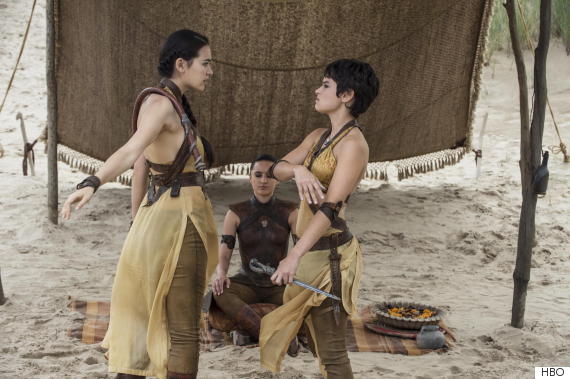 Littlefinger reveals his plan
Marrying Sansa off to Ramsay Bolton wasn't just so she could "avenge" her murdered family. The sneaky Petyr Baelish finally revealed that it's all a part of a plan for Sansa to become Wardeness of the North once Stannis defeats the Boltons and takes the Iron Throne. But in the meantime, Littlefinger is leaving poor Sansa all alone with the psycho Bolton boy.
Even Tyrion knows Jorah is desperate
Leave it to Tyrion Lannister to be the prisoner who figures out his captor's plan while being tied up on a boat. Tyrion reads the poor unfortunate Jorah Mormont down to his core and figures out that he's only kidnapped him as a way to get back in Daenerys' good graces. But will it work? I have a feeling these two outcasts are going to become buddies.
"Game of Thrones" airs on Sundays at 9:00 p.m. ET on HBO.
– This feed and its contents are the property of The Huffington Post, and use is subject to our terms. It may be used for personal consumption, but may not be distributed on a website.